Stay updated with our news and the upcoming events.
Be Kind NGO in Trotters Stop
It's said that you can learn a lot about a society by the way they treat their animals.
During a recent visit to our school, the Be Kind NGO shared the important message of kindness towards animals in our society. With their aim to foster compassion towards animals, promoting responsible pet ownership & eradicating animal cruelty, the NGO brought along the star attraction "Lucky", who's calm and composed nature surely left a positive impression on our students.
Visit our page for more pictures!
Ministry of Education (Russia) in Trotters Stop
We were honoured to receive the delegation from the
Ministry of Education (Russia)
, accompanied by HE Artyom Kozhin, Ambassador of the Russian Federation to
. This recent visit was an opportunity for us to showcase the amazing work the students and staff do at our school, which the delegation highly appreciated. 
This was followed by a workshop at our school by Shadrinsk State Pedagogical University, with the support of the Ministry of Education, to promote the Russian language to our Primary students, who found the workshop both educational and enjoyable.
We share our appreciation to the two delegations and look forward to hosting them again soon.
Visit our page for more pictures!
Halloween & Kreol Festival
As October comes to a close, Halloween also marks the end of the Kreol Festival for 2023. A beautiful day at our school was made even more special by the happy faces of our lovely students. Dressed at their spooky best, they made the most of the day full of fun, dance and games.
Our appreciation to all parents for their hard work in getting their kids ready for the day, we can see you did this from your heart. A special thanks also to our PTA members for sponsoring the bouncing castle and treats.
The Tourism Club also got together last week to learn how to make Seychellois delicacy ladobe.
Enjoy the beautiful photos.
Visit our page for more pictures!
With water scarcity becoming a growing concern around the world and in the Seychelles, Year 5 students took a memorable field trip to Rochan Dam on 19/10. We're grateful to
PUC Seychelles
for hosting us and facility supervisor Mr. Christopher for being our guide.
Our students learnt about this important water storage and treatment facility that ensures clean and consistent water supply to Mahé island. The keen students had many questions for Mr. Christopher who explained to us the entire process from water source to filtration.
Our special thanks to the parents who joined the trip, their support was extremely important to the success of this trip.
We hope you enjoy the photos as much as the students enjoyed their trip.
Visit our page for more pictures!
As we do each year on Teacher's Day, we started the day by receiving the blessings of Father Fanstin, who blessed our staff, classrooms, and students. This was followed by an assembly in the main foyer where our lovely students performed dances, songs, and poetry recitals for their teachers. They also did a ramp walk copying the walking style of each staff member. It was full of fun and laughter. For the teachers, there were dance, singing, and poetry performances.
We took the opportunity to recognize and felicitate Ms. Chantal and Ms. Michel for ten years, as well as Ms. Verona and Ms. Anifa for five years of dedicated service to Trotters Stop.
Last but not the least, we would like to thank our parents for the gifts they showered on our staff. We were overwhelmed by the love and support we received.
This was one of the most memorable Teacher's Day we have had since we started our journey with Trotters Stop.
Visit our page for more pictures!
This week was dedicated to "Meet & Greet", an important event for parents and teachers. This allows parents to take a peek into the classrooms of their children, learn about classroom rules, mission and vision, as well as gather key information from the class teacher.
Teachers took the opportunity to showcase to the parents that they are available for any discussion about their children, and they are concerned and committed to their child's education and well-being from their first day at Trotters Stop Pre & Primary School, Seychelles.
Visit our page for more pictures!
Students engaged in a variety of activities both inside and outside the classroom.
We drew and painted as well as conducted craft activities to illustrate what peace means to each of us, both closer to home and globally.
Happy International Peace Day to you all!
Visit our page for more pictures!
Year 6 Graduation - Batch of 2022-23
Wednesday was a joyful day filled with celebrations and happy faces. Around 2.30 pm, the Year 6 students arrived with their families, and they were pleasantly surprised to see the arrangements made by their teachers and other students.
The commencement ceremony kicked-off with a video highlighting their journey at Trotters Stop, followed by opening remarks by their class teacher. All students received their graduation sash and achievement certificates. There was entertainment presented by the Drama Club, followed by poetry recitals, a speech from a proud parent and a thank you note by a graduating student. We ended the day with a graduation song, group photo and some refreshments.
We couldn't be prouder of each student, many of whom we have seen grow from nursery to Year 6 and we know they have the foundations to become leaders of tomorrow, in whichever field they enter.
Visit our page for more pictures!
Our nursery graduates make us so proud today. The hard work they have put In all year with the support of those around them has made it a year of incredible growth for them, all while having a lot of fun. Each pre-schooler is unique, yet each has experienced and overcome their own unique challenges of speaking, sharing, moving away from diapers, spoon feeding, listening and following instructions given by their teachers. It has been a privilege to watch each child grow throughout their preschool experience.
They also got the chance to say goodbye to their classrooms where they spent precious time with their classmates and teachers. It was a day of mixed emotions. We invited all our parents in small groups to enjoy the graduation ceremony and got a chance to mingle with others. Some parents had tears and some were overwhelmed when they went through their term work and watched the journey video for the year.
Let's have a glimpse of their overflowing cuteness during the joyful celebration!
Visit our page for more pictures!
Festival Zanfan Book Parade
Our beautiful mermaids and pirates braved the weather this weekend to participate in the Festival Zanfan Book Parade around Victoria. The students, parents and teachers had been preparing for the last week to get the float and costumes ready as well as practice for the parade, which was amongst the stand-out processions in the parade.
It was such a pleasure to have the First Lady, Mrs. Linda Ramkalawan visit our float and spend precious time with our students. Finally, and most importantly, this would not have been possible without the generous support from many parents and the passionate teachers. We would like to express our utmost gratitude to them!
Visit our page for more pictures!
Financial Awareness Program
Trotters Stop Pre & Primary School, Seychelles was selected to participate at the launch event of the Financial Awareness Program, a new initiative in collaboration between NouvoBanq and UniSey. Three of our students from Year 6 represented our school along with Ms. Verona.
The students were ecstatic to have the opportunity to meet with senior financial experts and to receive a token of participation from the CEO of NouvoBanq, Mr. Christopher Edmond.
We believe that financial literacy should be a part of a child's upbringing and education. We really appreciate NouvoBanq and UniSey for bringing this initiative to our country.
Visit our page for more pictures!
Celebrations on National Day in Trotters Stop.
To commemorate our National Day, we all came together to sing our National Anthem, as well as a few other patriotic songs.
Happy National Day to you all.
Visit our page for more pictures!
Trotters Stop has made this an annual event, and we are always thrilled to see so much zeal and vigour from our children, staff, and parents out on the field. It was encouraging to see the parents participating and that the EC kids had access to a variety of play stations.
Teams made up of children of different ages work together in the primary school as a whole with our "Houses". Parents participated in all House events in the same manner as students and staff.
I'd like to thank Mr. Galen Bresson for holding the microphone for three hours at this time. Mr. David Fabien for helping us with PA system. We would like to thank Mr. Neddy Labiche for supervising kids' favourite sport, football, Ms. Sonia Yeganegi for shooting photos, Ms. Nadine Gonthier, and all the amazing parents who assisted us. We would also like to express our gratitude to PTA members for their support.
Let's sneak a glimpse into the day!
Visit our page for more pictures!
"A father is someone we look up to no matter how tall we grow."
Congratulations on being a wonderful dad. We thank all the fathers, grandfathers, and husbands for their role and influence in our children's life. May the bond of love and affection between you and your child always be blessed.
Happy Father's Day to all the loving fathers out there.
Visit our page for more pictures!
The AMSA Medical Centre provided free health screenings to Trotters Stop students as part of activities honoring National Children's Day, which is observed on June 1st in honoring Seychelles. The screenings included a GP examination, weight and height measurements with BML calculations, an oral hygiene check-up, and an eye test (by Optic Seychelles).
 We would like to express our gratitude to the entire kind staff of the AMSA Medical team for their hard work and efficiency.
Parents are recommended to conduct more research if necessary, as we have already sent the AMSA evaluation form following the examination. Have a pleasant Mid-Term break. See you all on Monday!
Visit our page for more pictures!
Let's make this Children's Day extra special by celebrating it uniquely. "Your example is one of your Children's best teachers." Let's constantly model good manners and the best behavior teachers for our kids. Let your kids witness how respectful you are by speaking politely and using words like "Can I," "Please Can I," "Thank you," and "I'm sorry." Let's impart manners to them. Let's educate them on proper and improper physical contact, and let's show them compassion. Let's establish rules at home and follow them.
A child needs your time and love more than anything else in the world. 
Make your child feel special every day, not just on Children's Day. 
A very happy Children's Day to all of our kids. Let's have a glimpse at some of the activities.
Visit our page for more pictures!
Visit to Pet Haven Society
We visited the Seychelles Pet Haven Society today, which was very touching. The noble aim of assisting those furry babies without a voice was so lovely to see and experience.
We always enquire about Ms. Mariam's needs before making a donation. Our little friends took pleasure in our company and our treats.
Visit our page for more pictures!
The Earth has its music for those who will listen.
Earth Day raises awareness about the importance of protecting our planet & encourages us to reflect on what we are doing to make our planet a more sustainable place. It's never too early to teach children the importance of keeping our planet clean and learning how to reduce, reuse, and recycle.
Our children created poetry, catchphrases, songs, and a few presentations on our planet to celebrate Earth Day at school.
Let's focus on planting more trees and preventing pollution to make these plants greener and happier.
Visit our page for more pictures!
The facilitators planned a field excursion to Valle De Mai so that students could see and learn about the giant palm in its natural habitat.
The trip was quite enjoyable for the students, who were really enthusiastic and learned a lot about the Coco de mer nut.
Visit our page for more pictures!
Our children participated in the Indian High Commission's essay competition with the topic "Importance of Educating Girls and Women"
Our two students, Narnia Gonthier and Vasilisa Kozhin, received special appreciation awards out of the eight finest participants whose essays we provided to participate with the other 80 participants. Most of the contestants were also awarded their certificates.
Students created lovely cards to please and inspire their mums.
The PTA did a tremendous thing by giving gifts to all of our teachers and helpers to make this day even more memorable.
Let's enjoy some photographs!
Visit our page for more pictures!
Continual enjoyment for our students!
School excursions foster independence and self-assurance.
They gain a greater understanding of other cultures and deepen their understanding of the wider world thanks to these memorable and enriching school trips.
Students benefit from field trips by gaining practical experience that cannot be taught in a classroom. Students now have a higher sense of accountability for their possessions and themselves.
We sincerely appreciate our parents and our teacher's assistance in making these trips a success.
Visit our page for more pictures!
A severe change in behavior is often "the canary in the coal mine".
We had with us Ms Sarentha Luther, a Practitioner Psychologist who had a workshop with our staff on Autism and issues related to different challenging behaviors, ADHD and types of reinforcement, issues with speech/speech-related, disorders or conditions and social interaction difficulties.
This training had a large positive impact on teacher self-efficacy rating regarding working with students.
Visit our page for more pictures!
There was a drawing competition on the theme "What Cleanliness means to me" at our school organized by the Indian High Commission of Seychelles.
His highness Mr. Kartik Pande (Indian High Commissioner) distributed the Certificates and small prizes to the top three winners in two categories and all participants were given participation certificates and a book.
Visit our page for more pictures!
Merry Christmas and Happy New Year to Everyone!
The last week of the term was full of surprises.
Our first Christmas exhibition of handcrafted cards and ornaments was wonderful, and the students were thrilled to share their creations with their parents. We had a great time at our Christmas party, and there was plenty of food and goodies for everyone. The Magic Show was the highlight of the day, and the students were amazed and delighted to watch magic tricks.
Our special thanks goes to Mr. Galen Bresson for organising the magic show for our students. The main entryway was beautifully decorated by our PTA members. We would like to thank the PTA members. We want to thank our parents once more for their help and efforts.
Finally, we would like to wish you all a very happy family time at Christmas and look forward to the students returning on Tuesday, 10th January 2023.
Visit our page for more pictures!
Congratulations on your First Holy Communion.
May you all grow into a wonderful human beings in the future. Our special thanks goes to Mrs. Vesna (Haden's Mum) for decorating the Church, Ms. Michel, and Ms. Simon for their hard work throughout the year and preparing the children to receive their first holy communion.
We appreciate your support in attending our First Holy Communion and participating in our memorable day.
Visit our page for more pictures!
Amazing musical production and Christmas performances!
The lovely tale "You Are Special" serves as a reminder that kids are priceless just the way they are. Everyone enjoyed watching it because it was such a terrific motivating narrative. When it comes to conveying to kids a message of love, kindness, respect, and acceptance of who they are, it doesn't get any better.
Additionally, our kids gave wonderful performances, and we sang Christmas songs, which have always been a special part of school children's life. Our staff surprised everyone with a performance, which was the icing on the cake.
At ICCS Hall, we had a special morning that we will never forget. The illustrious visitors from the Ministry of Education, our beloved Minister Mr. Justin Valentin, parents, and PTA members deserve our gratitude. Let's take in the images!
Visit our page for more pictures!
Too cute to spook!
Halloween was so much fun and we celebrated the Creole festival to boot! Trick or Treating and the Halloween spirit is always such a memorable time for all our students. Our parents even showed off their creative flair and the outfits were a sight indeed!
Thank you PTA members and our lovely parents for all the candies and snacks.
Visit our page for more pictures!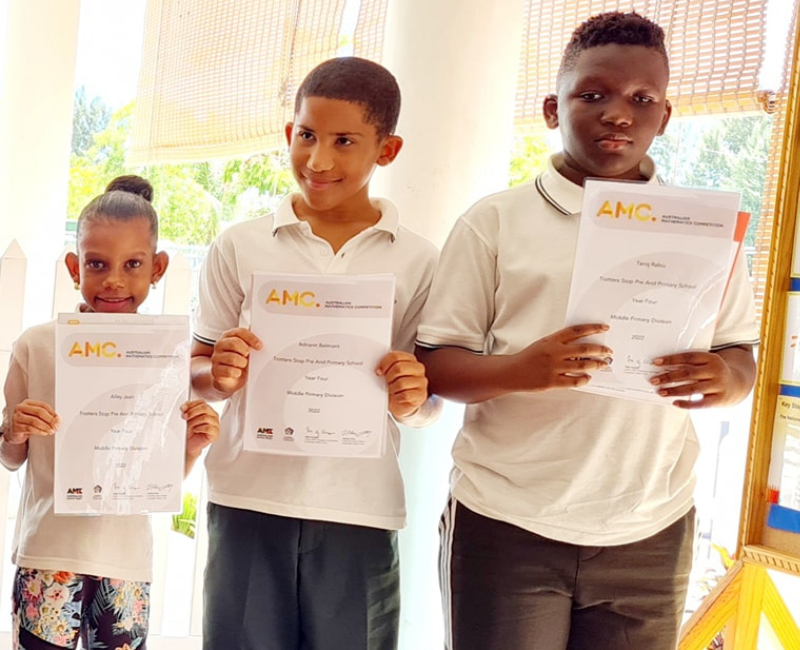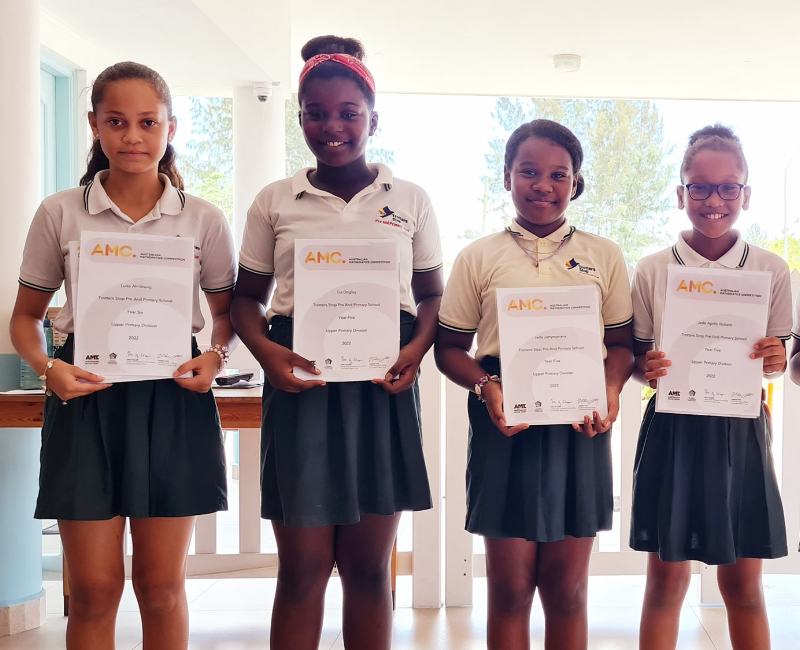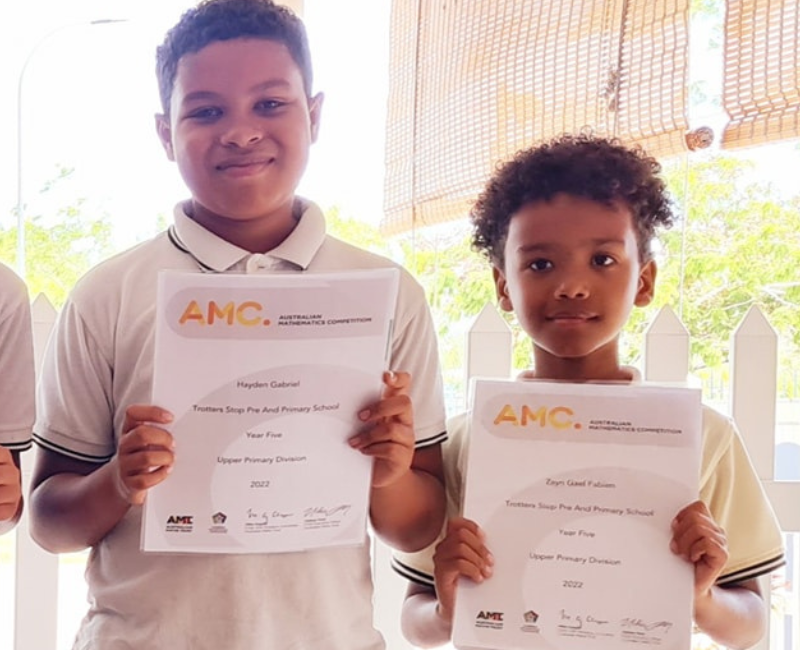 Australian Maths Competition
We are pleased to share the accolades and certificates that our students received at the Australian Maths Competition.
It was our first try, and our students found it to be a positive learning experience to see their results.
We have every confidence the students will do better and be more satisfied with the outcomes the next year.
Visit our page for more fun pictures!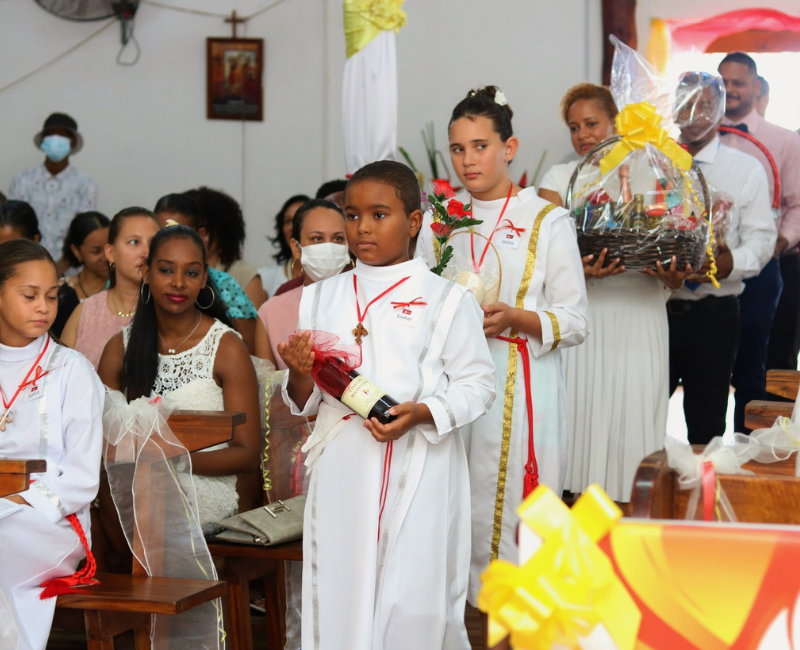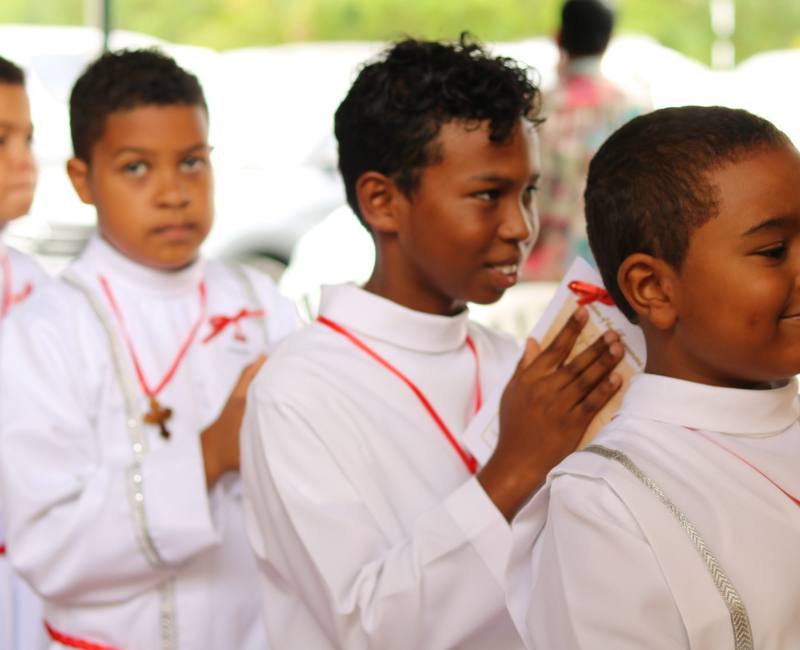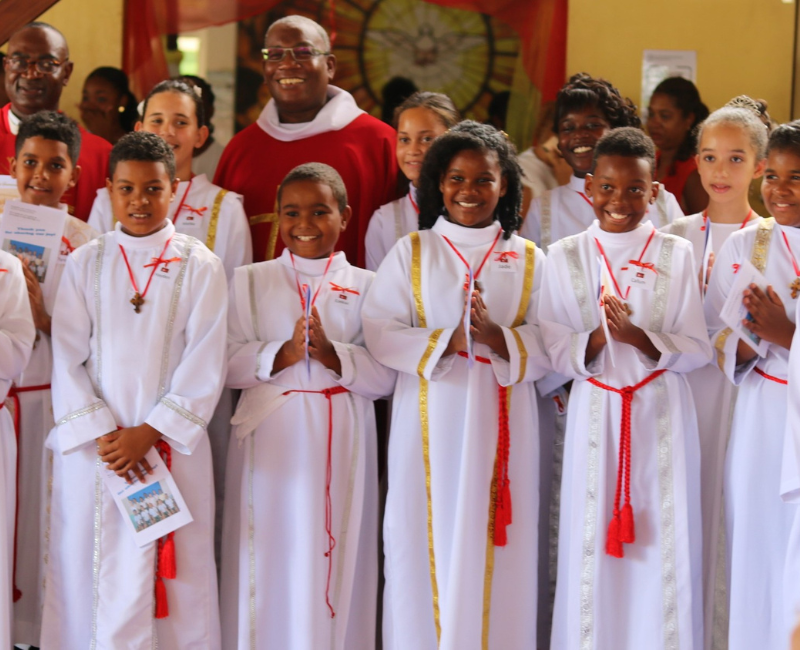 We will always treasure the memories of our kids' first confirmation service at Perseverance Church.
We are grateful to everyone who came to our aid and contributed to the joyous occasion.
Visit our page for more fun pictures!
"Meet and Greet" with your Child's class teacher went very well.
Parents visited their child's classroom and got the opportunity to meet the class teacher and assistant teacher at the beginning of the first term.
It was a great experience for our parents and the feedback was excellent. They appreciated the initiative we took to familiarize them with our teachers and the environment around our school.
Visit our page for more pictures!
Welcome to Trotters Stop Pre and Primary School.
 30th August 2022
Welcome to another incredible and productive school year. We are delighted that you are part of our amazing learning community. Our skilled and devoted staff is prepared for your child(ren). We are gearing up to welcome families & excited for new events and programs. We are indeed a joyous and caring community with the common goals of nurturing responsible, caring students and promoting high-level learning.
Click below to see the letter for more information, Happy reading.
Primary Graduation Ceremony
Primary 6 First Graduation Ceremony!
We are thrilled for our students as they embark on their new endeavors, we couldn't believe this special journey from P1 to P6 was already over. We are extremely proud of their accomplishments throughout the year.
All our students and their parents were warmly welcomed to the vibrant event. A power slide presentation highlighting our student's lovely voyage and precious recollections was created by our staff.
It was a happy day, especially for the graduates and their families. We wish well to all of our students for their Year 7, the first year of Secondary Education!
Enjoy your summer vacation. On September 5th, we will see you all again in fresh spirits as we begin a new academic year!
Visit our page for more fun pictures!
Pre Primary Graduation Ceremony
Welcome to the Pre Primary  Graduation Ceremony for your children! We really appreciate you entrusting us with the care of your children and sharing them with us. During this period, they have developed and learned a great deal.
Let's celebrate a few of their accomplishments.
Visit our page for more fun pictures!
Sports can have lots of positive impacts on children. Early Childhood and Primary Children enjoyed separate sports days. Our parents took part enthusiastically with similar fervor.
We had a mixed schedule of traditional sports, alternative games, breathing exercises, laughing yoga, aerobics, and dance in which all our children, parents, and staff took part. "Many hands make light work". 
A big thanks to Mr & Mrs. Fabien (Zayn's parents) for sponsoring the sound system and music. We appreciate Mrs. Zehrah Lafortune ( Manager of Marine FC) for supplying us with sports day gear and bibs.
Thanks to our parents who supported, cheered, and made a special effort to bring children and became part of a fun day.
Visit our page for more fun pictures!
Children's day is to celebrate "Childhood". We always plan something special and unique each year for Children's day.
Teachers put up different programs and entertaining performances for the children. We would like to thank all our parents for their contributions and support as always.
Our special thanks to Mrs. Esther Boniface (Ellie's mom) who helped Ms. Michel to decorate the school. We truly appreciate the preparations, arrangements, and hardwork done by our lovely teachers.
It was a day full of fun and excitement. Let's cherish those moments!
In collaboration with Seychelles National Museums, and Seychelles National Archives & Library, we've organized a mobile exhibition at Trotters Stop.
It was an educational & informative event that allowed students to understand the history & legacy of Slavery in Seychelles and the wider issues of freedom and injustice.
We are thankful to the organizers for putting up the exhibition and raising awareness.
Easter Hat Parade & Craft Exhibition
The grand week before the Easter holidays was a week full of Easter Craft activities in each class. We did not celebrate for the last two years because of the Covid-19 and this year children were so excited and looking forward to this event.
Children from each class paraded around the playground to the applause of the parents, though it was quite a bright sunny day, children were full of energy & enjoyed showing off their craftwork. They were very proud of their homemade hats, and we are sure that parents did enjoy making the hats as they did with love to create some beautiful memories of their childhood.
A big thanks to all our staff, parents, and students to make the school & event spectacular on this special day. 
Happy Easter to you all!
A perfect 'End of the term trip' to North East Point rocky Beach followed by a short trip to Sandy Beach of Beau Vallone. North East Point is known for its incredible rock formation, drifted wood, and crashing active tides. Children were out in nature and enjoyed every bit of it. Thanks to all those mums who helped us to make this trip memorable for our lovely kids.
Visit our page for more pictures!
Welcome to our gardening club
"To plant a garden is to believe in tomorrow"
At Trotters Stop the children enjoy planting, looking after and harvesting their own vegetables. Last year we grew tomatoes, green chilies, pumpkin, lady finger, cucumber, beans, and hope to do just as well this year!
Each year every class is allotted their own raised bed to look after. We are firm believers that the school garden is an amazing outdoor classroom tool with endless benefits for students that will extend beyond the classroom and long into their adult lives.
Lots of activities can be taught in the garden, and we don't necessarily need fancy tools to carry out lessons. But we do need your help and support with seeds, small plants, black plastic small pots for seedling, small tools and whatever you think can be recycled and useful for our gardening club. Let's see our children's and their teachers hard work and soon our garden will be blooming!
Our Year 2 students recently took a wonderful trip to Round and Long Island.
Children were so excited when they heard that their teachers have planned an 'Island Hopping' adventure as they were learning about 'islands' as part of their curriculum.
The trip began in a Glass Bottom Boat and took us from the Marine Charter to Long Island. On our way we fed so many colorful fish, bright corals and even swam.
A highlight was a unique walk along the sand bank connecting Long Island to Round Island.
We would like to thank our staff, parents and moms who helped us to make this a memorable day for all!
Happy Mid-Term holidays (21st-25th Feb)
Children are always engaged and active throughout their school days because know that by keeping them active we have such a positive impact on their health and wellbeing.
Here are some of their activities during the first half of Term 2.
GIS Map Drawing Competition
Our students participated in the recent GIS Map Drawing Competition and Aristarkh from Year 4 won second prize!
Many other students from different classes also took part and received their participation certificates this week.
We are thankful to the Ministry of Land and Housing for organizing such competitions and encouraging children to engage and participate in these events.
Picnic at a Botanical Garden
Here's a glimpse of the first week of our Kid's club activities, where fun and learning came together. We always strive to make their stay happy, productive and safe.
Activities ranged from messy play, treasure hunts, a picnic at the botanical garden, walking through the jungle.
Education Minister Visited Trotters Stop
We are pleased to share that Minister for Education, Justin Valentin, toured our school yesterday with Mrs Verma, visiting every classroom and facility, getting to know our teachers and students. He expressed his vision for cross pollination of skills and teaching talent among schools and we're all too happy to share our best practices with other institutes for the benefit of our wider community.
He was accompanied by the principal secretary for the education sector development John Lesperance, director for education resource development Dr Linda Barallon and director of education for strategic priorities Alex Souffe.
Visit our page for more pictures!
A very Merry Christmas to you all! We had a wonderful and unique celebration this year and would like to thank all our staff, parents and students for coming together to making this happen against all odds. Our aim is always to bring a smile to our children's faces and you can see for yourself that we succeeded!
And we're not done still – tomorrow is our school Christmas party and we can't wait for the fun to continue!
Visit our page for more pictures!
Wow!
It's all about Aristarkh Kozhin who won the second prize in GIS Map Drawing Competition Category 2 (9-12years).
It was quite a big challenge for our students since it was on a short notice. We are so happy to share this big news with all our parents and children.
Let's see what Aristarkh has to say "I have drawn the map of Silhouette because it is one of my favorite places in Seychelles. I was a bit confused whether I will win a prize or not. I feel so happy for winning second place for category 2."
Visit our Facebook page for more pictures!
Our First Holy Communion
Big thanks to Miss Michel for getting us beautiful venue and handling all the details of planning such an epic event for our children and their parents.
We would also like to thanks our parents for their support to make this occasion memorable.
Our special thanks to Esther Boniface (Ellie's mum) for decorating the Church.
Thanks to Mr & Mrs Gonthier for sponsoring the School's logo.(Narnia's parents) Your love and generosity will always mean so much to us.
Visit our Facebook page for more fun pictures!
Creole festival and Halloween is here!
It's fun for students to see their teachers not to take every single day so seriously! Our children got the opportunity to experience the different aspects of Creole culture.
Wishing you a Spook-tacular Halloween!
Eat as much candies and sweets as you want at home.
Merry Halloween and Happy Howl-adays!
See you all on Tuesday, 2nd of November.
Visit our Facebook page for more fun pictures!
We are very proud to have the opportunity to participate in the Tourism festival art competition to share our vision of how we would like to see the tourism industry in 10 years time!
Children were so happy to receive a certificate of participation, little goodie bag and some lovely books for our library.
Thank you Ms.Ingride Laurencine and Ms.Verona for taking the initiative and executed the art work.
International Peace Day Celebration
Happy International Peace Day!
Let us spread peace, harmony, love, kindness and hope in the face of this pandemic.
And let's make this world a better place for our children.
The first week of school for toddlers is always exhausting for both teachers and students.
So many routines to teach and so many little learners to get to know. We have connected all our parents to the D6 mobile app for communication. Here you will also find daily and term lesson plans for your child.
We are still building the trust and relationship with each little learner so that they can feel safe and happy to come to school.
Here's a peek into some of the activities our children are enjoying at school.
Great teachers deserve great rewards, and we're pleased to share the awards they've received for the amazing work they do.
The Best Teacher Award was won by Miss Louicia for her dedication and passion for teaching, and her love for children.
The Star of the Year Award went to Miss Abi for her outstanding performance.
The Star Performance Award was won by Miss Nancy Otieno.

Miss Harini also won the Best Teacher Award. She is leaving the country soon and we are all going to miss her immensely. We wish her the best.
There were many more surprises for several other teachers for their remarkable performances.
Looking forward to seeing our students back on Monday!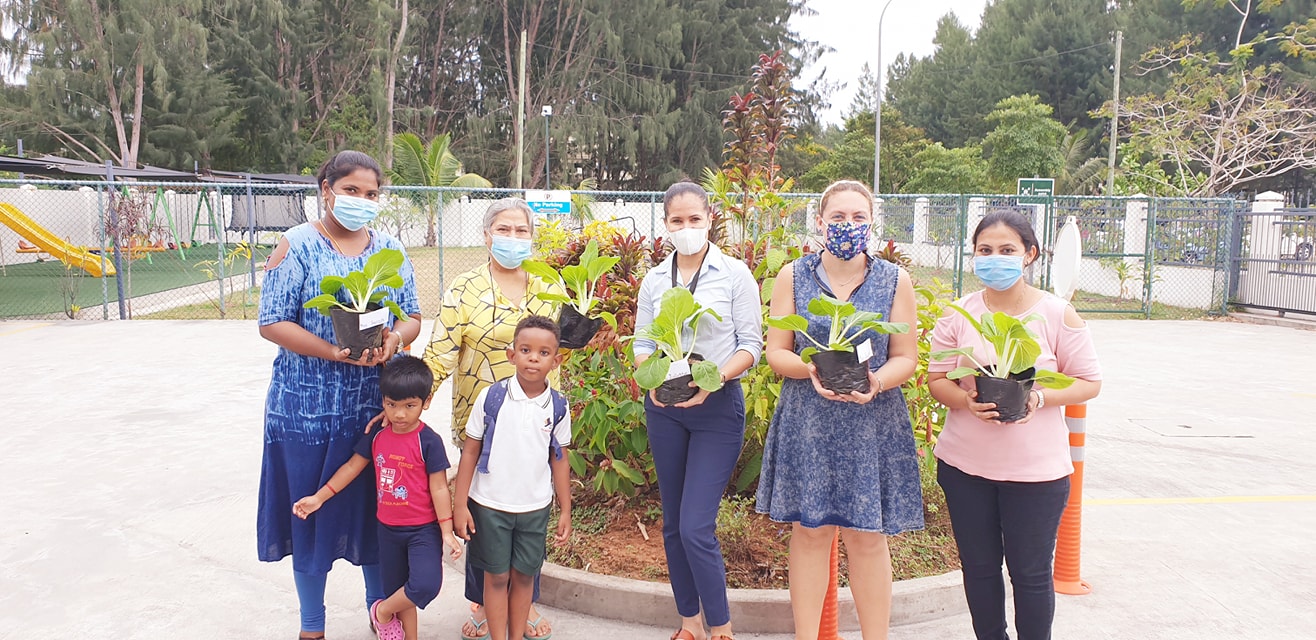 A Bok choy has been planted
Raphael planted Bukchoy during our lockdown session for gardening lessons. Thank you so much for your wonderful gesture.
We all can read our names on each plant!
We took our children out in the Sun to teach them the hard work and dedication that goes into plantations. They also learned about the seeding, germination, and growth cycle of a plant. This activity helps stimulate curiosity and interest in the foods that they can grow and hopefully get them to eat their vegetables with excitement!
Happy Independence Day!
"Our Independence Day is a date that unites us all and is a powerful symbol of our national unity." – President Danny Faure
To celebrate the occasion, our enthusiastic children created their own flags and chose to take a picture at their favourite spots in our school.
Happy Father's Day!
Congratulations on being a wonderful dad. We thank all the fathers, grandfathers, and husbands for their role and influence in our children's life. May the bond of love and affection between you and your child always be blessed.
Happy Father's Day to all the loving fathers out there.
May the innocence in their smiles and the purity of their hearts stay forever unfaded.
Being the future of our generation and a beacon of hope gives us plenty of reason to celebrate them! So let us honor this day with joy, happiness, and the gift of childhood.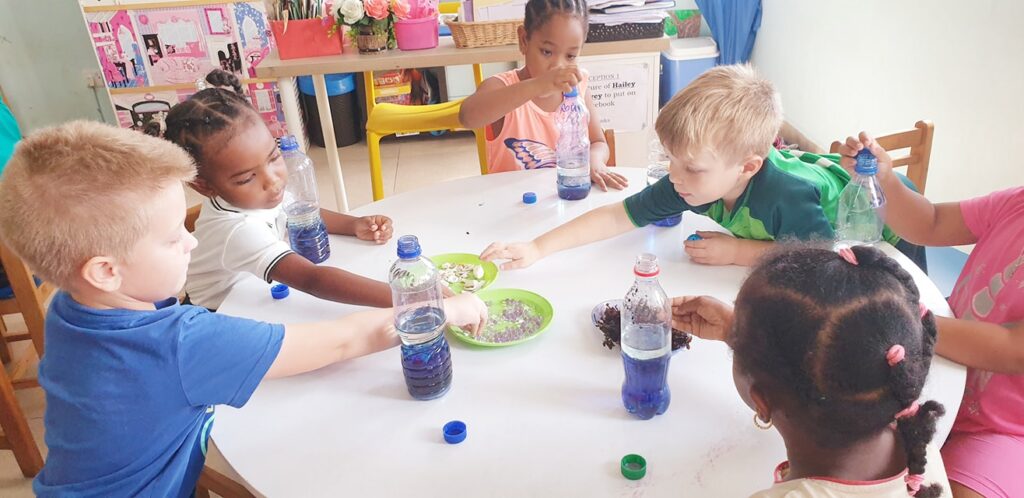 We had our children create their own little versions of the ocean inside a plastic bottle.
This crafts experiment opened our children's eyes to life under the vast oceans. They learned about the creatures and plants that inhabit underwater.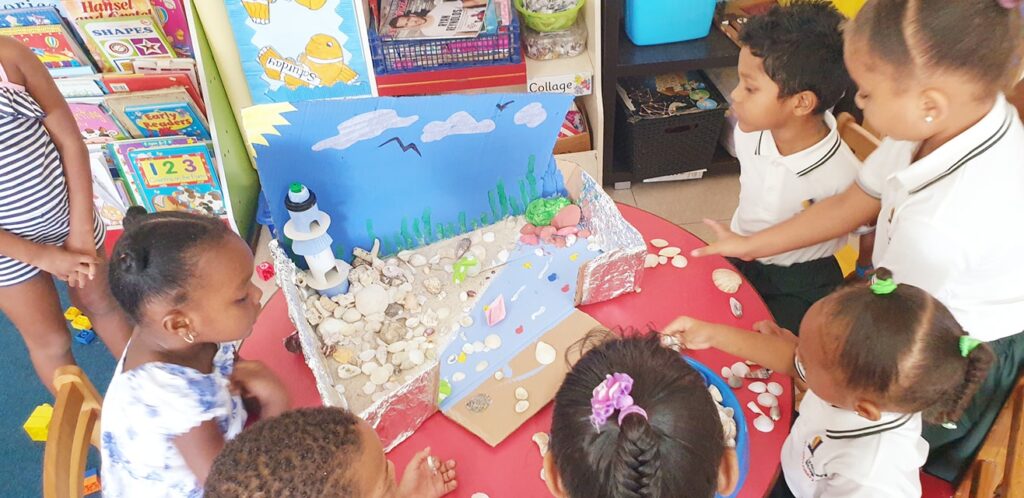 Seashells Crafts - By Reception 1
It was a fun outdoor activity to have the children pick their favorite seashells and turning them into beautiful, timely, art pieces.
This helped them understand the atmospheric difference between land creatures and sea creatures.
Teachers Parents Conference
Dear Parents & Guardians,
As always, it was great to meet you all during our recent parent-teacher conferences, which help build the foundation for our partnership.
Our goals for the conferences have always been to inform you of your child's growth and progress, learn important information regarding your child from you, plan for their future success and build a trusting relationship with you.
Thank you for the great response to the children's work the teachers had on display and we're glad you enjoyed touring the classrooms. We appreciate your positive feedback and very encouraging comments to staff for their hard work during and after the lockdown.
Regards
Mrs. Verma
Dear Parents & Guardians,
We had every reason to spread some extra cheer this unprecedented year and that is exactly what we did.
We wanted to give you a magical experience and memories that would help us all look back at 2020 with a little more hope and happiness. This year, we put on a beautiful musical play entitled "Repunzel" and brought you brand new Christmas songs to take you through the holiday season.
We would like to thank all our parents who helped us in preparing and organising such a wonderful and perfect musical day. My staff also put in an incredible effort which was evident in the result.
I hope that these pictures bring as big a smile on your faces as they have for us here at Trotters Stop.
Wishing you and your loved ones a Happy Holidays once again!
Regards
Mrs. Verma
Visit our Facebook page for more fun pictures!
upcoming Christmas Production 2020
 13th November 2020
As we approach the end of the first term at our new school, it gives me great pleasure to write this letter to you. There have been a lot of exciting activities going on at the school and the children have certainly been busy. I am sure they have been reporting back to you everything they are doing here daily.
Children are practicing songs for our Christmas Concert and here we are with our Musical Play!
Click below to see the letter regards to the Christmas production addressed to the Parents / Guardians. Happy reading.
Halloween & Creole Festival
Duo celebration of 'Scoopy Halloween' and 'Creole Festival'. Let us unleash our Halloween inspiration to celebrate the day in a safe, fun, unexpected way!
We have loads of tricks in our bag of treats! We played games, read scary stories, had costume contests, goodie bags, candies, and scavenger hunt houses. Mr. Valentin and Mr. Vincent did on came all the way to show us how to make straw hats and baskets with palm leaves.
How witches and ghosts make merry and can have so much fun! Thank you to all the lovely parents for their generous contributions to make the event even more memorable.
Have a lovely midterm break! See you on the 3rd of November!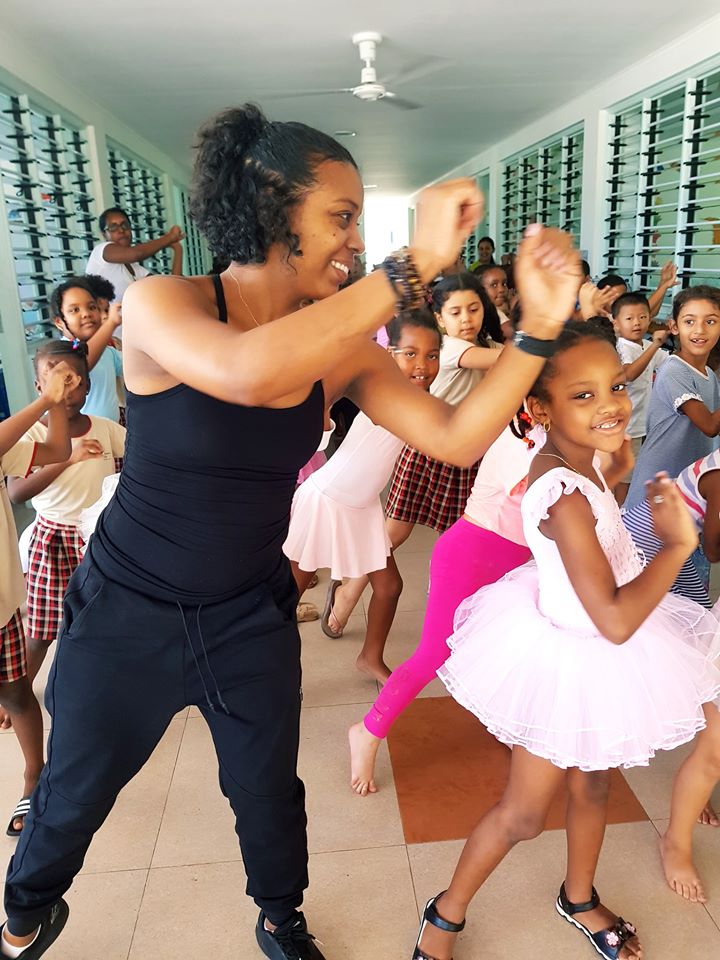 From Cartwheels to Confidence!
Children grow up so quickly and their bodies need to be able to take the rapid growth in their eager years. These gym classes enable them to channel all that raw energy and reach their developmental milestones.
At this age, they're ready to make a huge leap and to participate in classes without Mum and Dad. Having discovered the joys of independence, they're eager to do "what the big children do." But they still learn best in a structured environment where gymnastics, other physical activities, and all aspects of learning are combined with a healthy dose of fun.
Our classes focus on: 
Classes are conducted throughout the new year. Please contact the school office for more details. 
The Tooth's Dental Education initiative.
Our special thanks to Dr. Maria (Adriana's Mum) for educating children about the importance of maintaining proper dental health and a beautiful smile.
Dr. Maria showed us how to practice strong oral hygiene habits at an early age and how it is so important for us to eat fruits and vegetables every day.
It's nice to see our children's curiosity and their interest in the things displayed at the museum. We really appreciate the enthusiastic and passionate team for their efforts in explaining the history of Seychelles to our future historians!
Thank you everyone.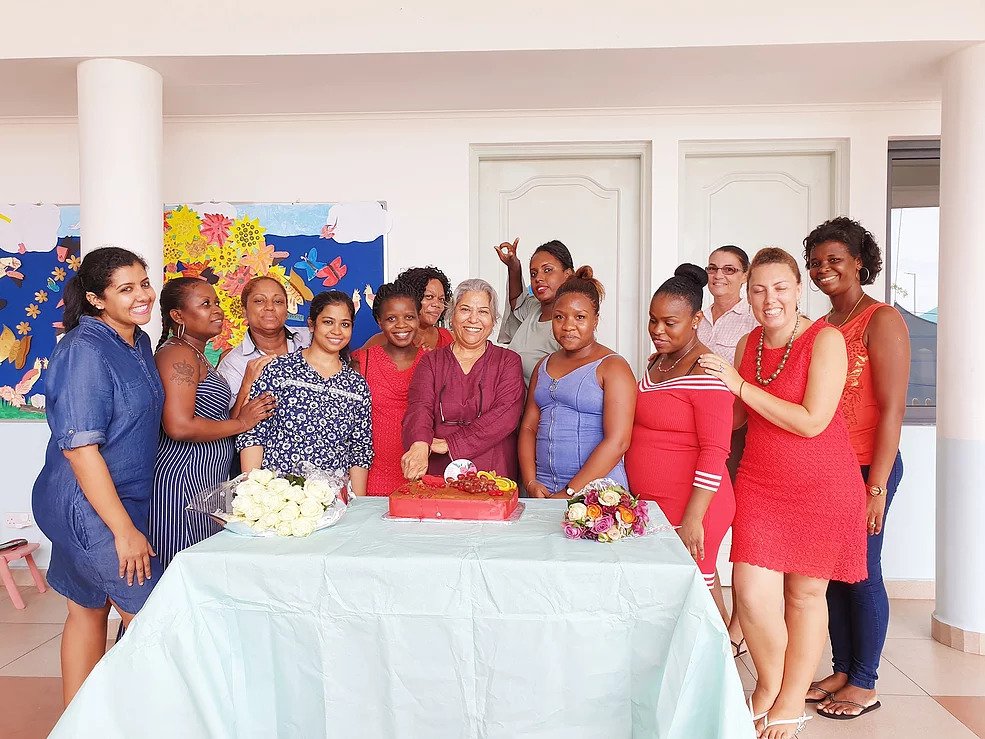 Teaching is not service, profession or a job, it is a pillar of society.
Thank you Miss Deepa (Reyon's Mum) for baking the cake for us and all the parents for their beautiful flowers, cards and gifts for the staff
Have a blessed weekend!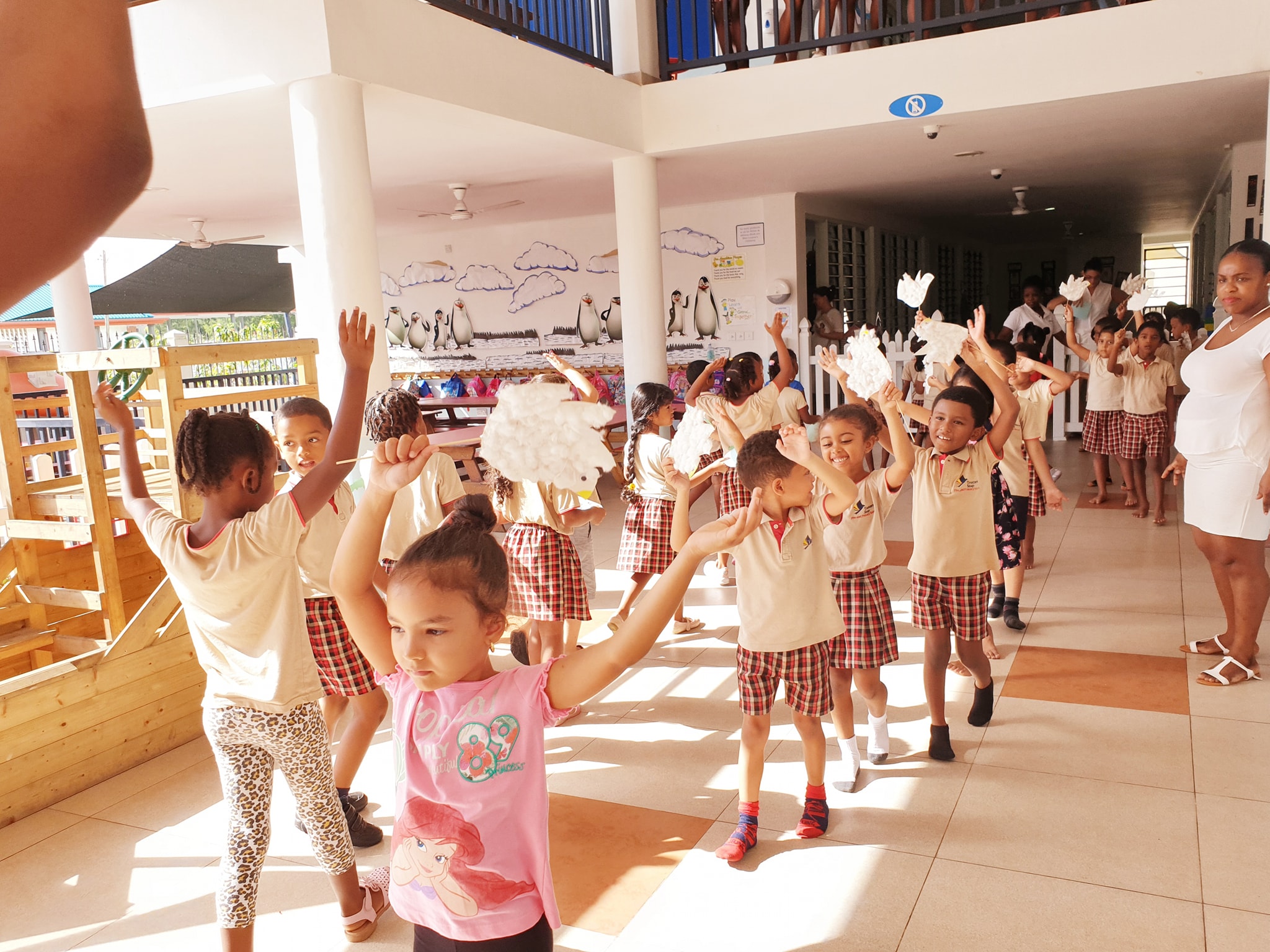 Lets raise our children to live in harmony, without fear, without prejudice and without violence. we must contribute to building a culture of peace. Let us all celebrate Peace Day everyday. Have a look at our Peace Day Parade.
Fun, active holiday activities at the Trotters Stop!
Kids club enriching activities that gave children the opportunity to socialize with others and promote their well-being. New Children in Nursery got a chance to settle down in the environment during the kids club. Children are happy and very excited with their day-to-day routine in a Covid-secure way.
To show our gratitude and appreciation for our teachers, for their hard work, patience, commitment, and passion, we presented them with awards of achievement.
Our 'Star Performer of the Year Awards' go to Miss Michel and Miss Bhakti. However, so many more of our teachers were appreciated with gift vouchers for their continued commitment to our students.
I have always said that teaching is a calling and I would like to say a big 'thank you to my entire team for all the wonderful work they have done this year.
Please join me in wishing them every success and giving them the support they need to help every child reach their full learning potential.
Wishing you all a wonderful and safe holiday.
Let's celebrate our children's successes! I can hardly believe that this is it! there has been pride, amazement, astonishment, and yet more pride. Children were thrilled to receive their achievement awards as much as we did! As a team, we wish you all a fantastic summer break and we pray for a continuation of this glorious weather.
With best wishes,
Trotters Stop Family.
Children's Day at Trotters stop!
We celebrated our children today; their achievements and how special they truly are to us all. it is our mission to help them to grow into happy, loving, healthy, and caring adults. The games and goodies are of course an added bonus!
A big thank you to our wonderful parents who helped make this day a success and a beautiful memory for us all.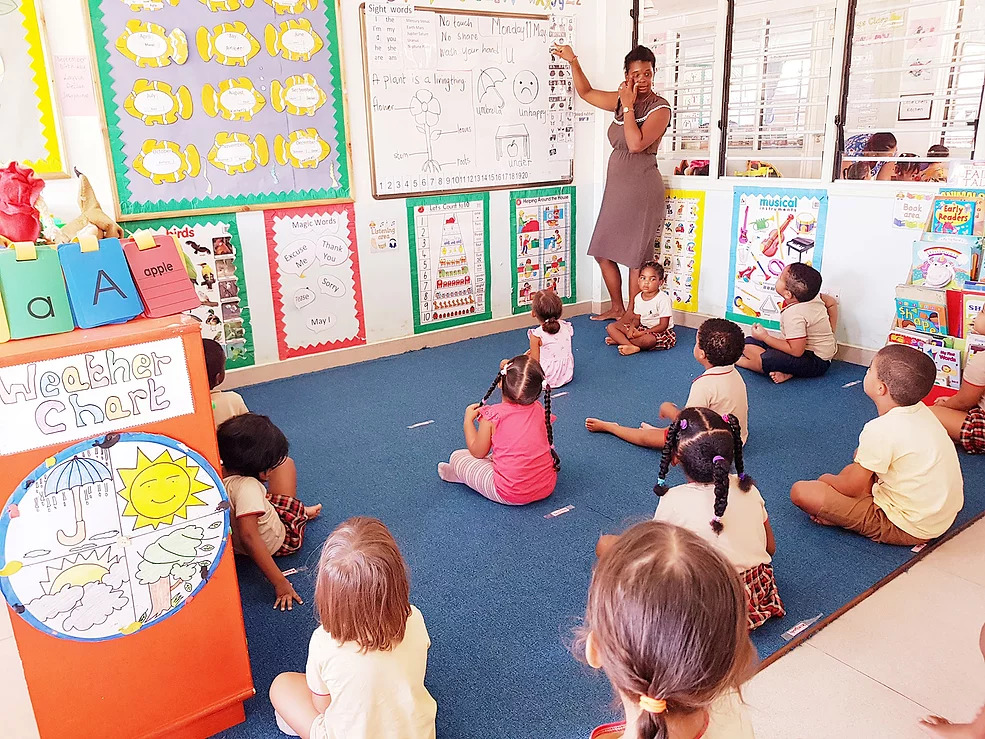 It was such a treat to watch our students entering school again with big smiles on their faces. Some of them just ran to their classrooms without even saying goodbye to their parents!
Clearly, we all needed to see our friends!
We have spared no effort to prepare for this new norm – cleaned all surfaces, washed all indoor and outdoor toys, disinfected the playgrounds and the entire school building.
Each classroom has been cleaned and rearranged according to the department of health guidelines. Our teachers are educating children about social distancing and the importance of hygiene on a daily basis. We need to be patient as everyone gradually gets back into the swing of things.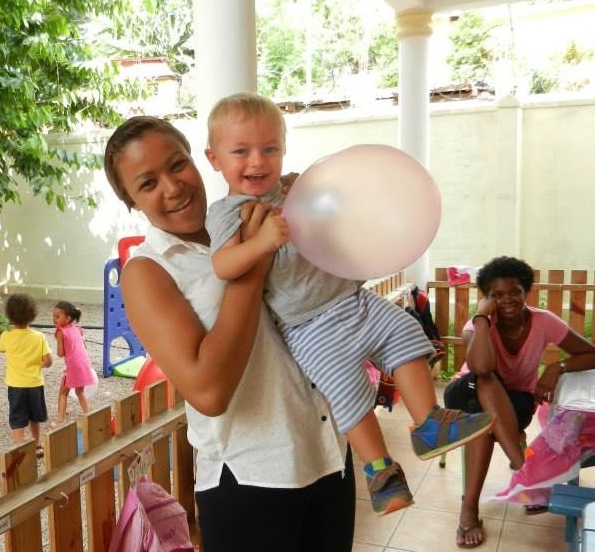 Please be advised that we have received approval from the Commissioner of Health for the school to re-open on 11th May 2020 for reception, nursery, and primary classes as well.
We hope you and your families are well and keeping safe. Given recent developments and in the best interest of the health of our students, staff, and community, we are extending the closure of the school from 30 March to 3 April 2020. Please note that school will now reopen after the end of term and Easter holidays on 20 April 2020. We are here to support you and will continue to provide homeschooling resources as needed. A 'home learning study pack' for students in Primary 1 to 5 classes has been prepared and will be sent shortly.   Meanwhile, some online resources are available on the Parents page which is particularly useful if your child is in Nursery to Reception 2 classes.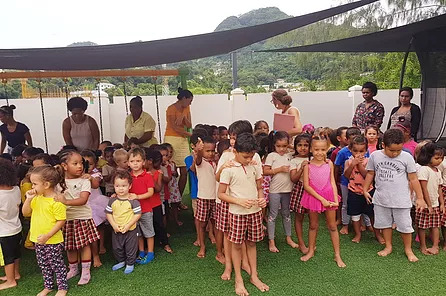 A Mock Fire And Evacuation Drill was conducted at the Trotters Stop to create awareness among students to respond swiftly in times of emergency. The fire alarm rang out loud and alerted everyone. The students immediately evacuated their classrooms, led by their teachers and assistants. They exited from various points to assemble in the playground. It was an essential life skills workshop and hand-on-experience for all of us, keeping in mind our children's safety and security.
Well done Students and Teachers!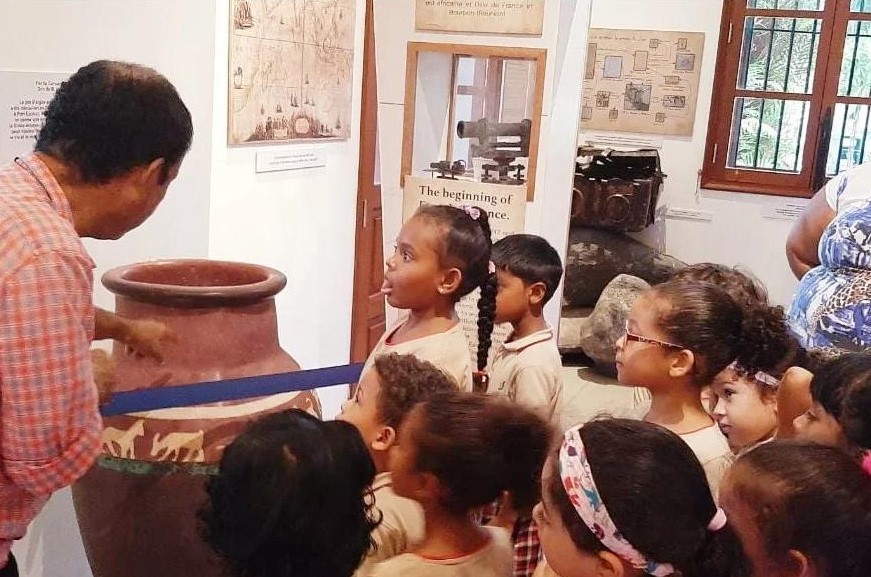 Year 1 trip to the Museum
Special thanks to Mr. tony Mathoit for Showing us spevimen of the Coco de mer. a collar with three bells, a metal collar with three rings, traditional washing and ironing, tobacco making. Creole furniture, board games, kitchen objects and traditional musical instruments.